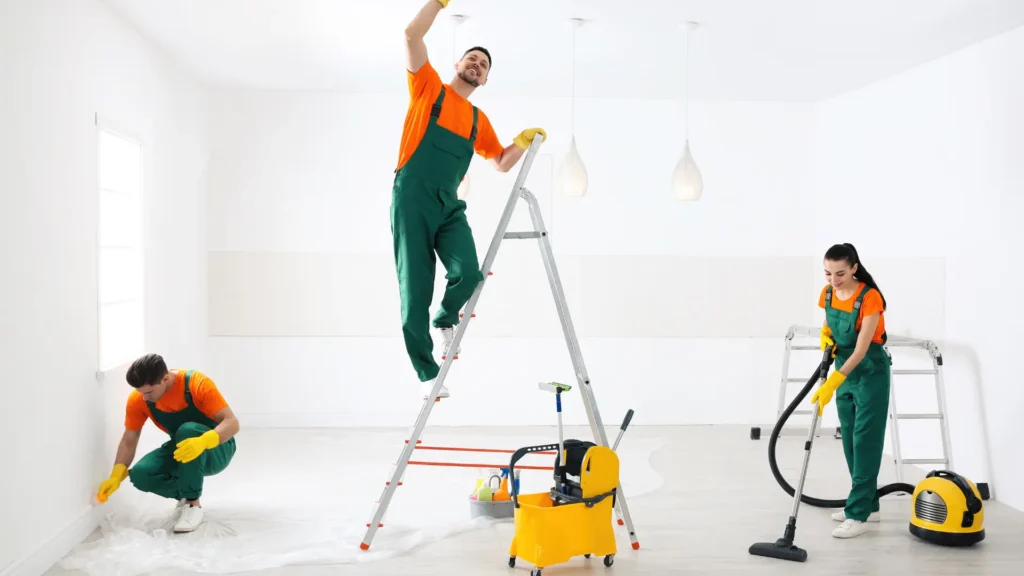 Whether you've just finished a major home renovation or a minor remodelling project, the aftermath left by builders can be a daunting sight. Dusty surfaces, debris, and scattered tools can make you wonder if the transformation was worth the mess. Fear not!
We've wrapped all the information you need to plan your After Builders cleaning, get a peak at the average prices, what to expect from a professional service and how to find reliable cleaners. Let's dive in!
After Builders cleaning prices
The average After Builders cleaning prices vary depending on the size of the property, the level of cleaning required, and the type of renovation that took place. On average, you can expect to pay from £100 for a small studio flat and up to £700 for a 6+ bedroom house. However, the prices can change based on several factors that we'll discuss later in this article.
For this example, we'll provide the lower-end and higher-end prices based on research of 20 cleaning providers that include a thorough cleaning of all bedrooms, bathrooms, living areas, stairs and inside windows, without kitchen appliances, carpets and upholstery. The balcony, garage and external windows are also not included.
Studio flat – £100.00 to £180.00
1 Bed 1 Bath – £162.00 to £254.00
2 Bed 1 Bath – £192.00 to £284.00
3 Bed 1 Bath – £235.00 to £314.00
3 Bed 2 Bath – £265.00 to £344.00
4 Bed 1 Bath – £339.00 to £444.00
4 Bed 2 Bath – £369.00 to £474.00
4 Bed 3 Bath – £399.00 to £504.00
5 Bed 1 Bath – £369.00 to £474.00
5 Bed 2 Bath – £399.00 to £504.00
5 Bed 3 Bath – £429.00 to £534.00
6+ Bed House – £414.00 to £700.00
Free After Builders cleaning quotes
We are happy to provide you with a free, no-obligation quote. Request your free quote now and get a price based on your specific requirements.
Factors affecting the cost of After Builders cleaning
The main factors influencing the After Builders cleaning costs are the property's size and the extent of cleaning needed. For example, a fully renovated 5-bedroom house would cost more than a small 1-bedroom flat undergoing similar cleaning after renovation.
Property size: Property size stands out as a primary determinant of the cost. A larger property demands increased time and resources for comprehensive cleaning, consequently resulting in a higher price.
Property type: The type of property you have also plays a role in determining the cost of After Builders cleaning. For instance, cleaning a flat would generally be more affordable compared to a house with multiple bathrooms, stairs, and larger living spaces to take care of.
Cleaning equipment and supplies: The price of necessary cleaning equipment and supplies can also influence the total cost of After Builders cleaning. Some types of renovation might require specialised cleaning products or equipment, which could incur higher expenses..
The time of cleaning: Booking in advance would secure a lower price rather than if you book for the same or the next day. Usually, cleaning companies charge double prices for same-day services.
Additional cleaning services: Carpet cleaning, upholstery cleaning and external windows cleaning will ultimately increase the final cost of After Builders cleaning as it requires particular skills and professional cleaning equipment to complete the job. Not all cleaning providers can offer such services and often outsource the job to specialists. It's important to ask beforehand as this could incur a higher cost for you.
Time of the year: For example, demand for cleaning services is higher during peak season, leading to higher costs. The weather during Spring and Fall is usually mild, allowing for comfortable work conditions and are often in high demand.
Services that affect the After builders cleaning prices
When planning After Builders cleaning, it's crucial to ensure you obtain a detailed quote. It's important to remember that certain appliances, carpets and furniture upholstery may not be included in the cost of a regular After Builders cleaning service.
To assist you in budgeting effectively, we've outlined the typical supplementary services that may be necessary for After Builders cleaning, along with their average prices.
1. Oven cleaning
Single oven – £20.00 – £60.00
Double oven – £30.00 – £80.00
Range oven – £40.00 – £150.00
2. Carpet cleaning
Bedroom carpet – £20.00 – £50.00
Living room carpet – £20.00 – £70.00
Hallway carpet – £10.00 – £40.00
Stairs – £20.00 – £50.00 (some providers charge £2.00 – £5.00 per step)
3. Upholstery cleaning
Upholstered chairs – £15.00 – £40.00
2-seater sofa – £30.00 – £60.00
3-seater sofa – £40.00 – £80.00
L shape 3-seater sofa – £45.00 – £90.00
L shape 4-seater sofa – £50.00 – £100.00
L shape 5-seater sofa – £60.00 – £120.00
4. Mattress cleaning
Single mattress – £20.00 – £30.00
Double mattress – £30.00 – £45.00
Queen mattress – £35.00 – £55.00
King-size mattress – £40.00 – £65.00
5. Window blinds cleaning
Venetian blinds (made of solid material) – £15.00 – £ 30.00
Roman blinds (made of fabric) – £30.00 – £60.00
6. Fridge and Freezer cleaning
Fridge cleaning – £10.00 – £25.00
Freezer cleaning – £10.00 – £35.00
7. External window cleaning
Depending on the number of windows, their sizes, the height of your property and the level of dirt, it could take from 30 min to 3 hours to complete and the price ranges between £15.00 and £30.00 per hour.
How to save on the After Builders cleaning costs
Now that we've explored the average After Builders cleaning prices and the factors that can influence the final cost, let's move on to practical money-saving tips.

Plan for the cleaning ahead of time: Many cleaning providers, including us, offer discounts for bookings made in advance. You don't need to wait until the builders have completed the renovation. You can always contact us here and tell us about the type of renovation that you are planning and the size of your property. We'll gladly help you with a free quote.
Get quotes from several cleaning providers: Don't settle for the first quote you receive. Instead, get quotes from several different cleaners before making a decision. Always look for the best balance of price and proof of previous work. After Builders cleaning is much more detailed than a Deep cleaning and needs the right attention to detail. You can see the risks of not hiring the right person below.
Try to clean it yourself: If you have the time and energy, you can save money by doing the cleaning yourself. Always start from the ceiling, then gradually go down windows, walls, surfaces, countertops, and only then the floor. We'll provide a guide for you at the bottom of this article.
Look for discounts: Keep an eye on social media channels such as Facebook and Instagram for season or first-time offers.
Look for loyalty programs or referral discounts: Cleaning companies often offer loyalty programs or referral discounts that can save you a good amount of money. We provide 10% OFF to our first-time clients.
A Friendly Advice:
By not hiring the right person for the job, you ultimately risk 2 things. 1st you compromise your and your family's health. The reason is that if the cleaners are not qualified and do not clean thoroughly after they leave there will still be dust particles in the air that you will ultimately breathe in. 2nd risk is that if the cleaners do not have the right technique and miss areas like the filters of your air conditioners, when you switch them on, all of the dust collected will fall over your furniture, carpets and floors and you might have to pay for a cleaner again.
How to find reliable After Builders cleaners
Securing a reliable cleaner is essential to avoid scams and potential letdowns. To guarantee top-notch service, seek out cleaning agencies and companies with favourable reviews and verify their credentials. It's worth noting that the quality of reviews matters more than the quantity. You can also consider seeking recommendations from friends and family.
We at 1Clean network with expert cleaners all over London and UK and guarantee their work 100%. If you aren't happy with the job done, we'll re-clean for free every time!
Get a Free Quote
If you are looking for a safer approach to After Builders cleaning and 100% Guaranteed quality of service, 1Clean is here for you!
How to do the After Builders cleaning by yourself
As previously suggested, if you're looking to maximise your cost savings, it's a good idea to undertake the property cleaning yourself. Remember, your friends and family might be more than willing to lend a hand, making it a team effort. Here are some handy tips to simplify the process and make it more manageable.

Prepare a checklist: Start by making a checklist of all the areas in the property that need cleaning. This will help you stay organised and focused and ensure that you don't miss anything. Here you can access our After Builders cleaning checklist for free.
Get your supplies: To make the process easier, ensure you have all the cleaning tools and supplies prepared. This includes cleaning products, clothes, sponges, a mop, a bucket and a vacuum cleaner.
Clean systematically: Work your way through the property systematically, starting with one room at a time and always working from top to bottom. This will help you stay focused and ensure that you don't miss anything. This way you'll also avoid re-cleaning the same area over and over again.
Remember, there is a lot of dust involved: Dust usually gets stuck to ceilings and walls. You need to first take it off these areas before you consider wet wiping your appliances, windows or countertops. Otherwise, you'll have to clean over and over again. You have to become a friend of the vacuum cleaner and the mop. You could use a flat mop to wipe your ceilings and walls, but never soaking wet. Preferably it should be dry, but you can use a lightly damp mop too.
Use PPE: Due to the amount of dust involved, it's always recommended to use a mask to cover your nose and mouth. It's also recommended to wear goggles to protect your eyes.
After Builders cleaning prices: Conclusion
Professional After Builders cleaning is always recommended after a home renovation. Prices vary between £100 and £700 based on the type of property, type of renovation and other factors. We've outlined the average After Builders cleaning prices for 2023 and provided some practical tips to save money. By understanding the factors that affect the cost of cleaning and following the tips provided in our article, you are ready to plan a successful and affordable service. And if you're looking to save even more money, consider doing the cleaning yourself by using our free checklist.